2018 New Members:
2nd Quarter:
Bravo Xteriors – Landscape, Irrigation, and Concrete Contractor
Bedrock Crushing LLC – Flexible Base – Roadway Materials, Rock-Crushing
Season Master Services – Mechanical and Plumbing Contractor
Contract Paving Co. – Site Work, Concrete and Asphalt Paving
C & M Concrete – Concrete Finishing & Tilt-up Wall Contractor
Hill & Wilkinson General Contractors – General Contractors
1st Quarter:
Davis Electrical Service Company LLC – Electrical Contractors
WR Construction, Inc. – General Contractor
Insulfoam, a Carlisle Construction Materials Company – Rigid Thermal Insulation Manufacturer and Supplier
Supreme Electrical Inc. – Commercial & Industrial Electrical Contractors
Cisco Equipment – Sales, Rental and Service of Heavy Construction, Industrial, and AG Equipment
4C Electric LLC – Commercial & Industrial Electrical Contractors
Hargrave Demolition – Site Work, Earth Work, & Demolition Contractor
Menke, Inc. – Floor Specialist
2017 New Members:
4th Quarter:
TD Electric, LLC – Electrical Contractor
Acorn Glass Company – Glass and Glazing Contractors
Willis Towers Watson – Bonding and Insurance Agent
Eunice Pump & Supply – Oilfield Pump & SuppliesTD
Pathfinders Co., Inc. – Data and Cabling Communications Contractor
Texas Fence & Pergola – Fencing, Concrete, Decks, Construction Fences and Pergola Contractor
DM Construction, LLC – General Contractor
Green Plains Design – Landscape and Irrigation Contractor
Kenny Electric – Electrical Contractor
Fisher Sand & Gravel Co. – Aggregates, Commercial and Contract Crushing, General Highway Construction
3rd Quarter:
Payless Plumbing – Plumbing Contractor
Muleshoe AG Services – Earth Work, Site Clearing, and Grading Contractors
Hendrix Electric – Electrical Contractors
JNL Plumbing, Heating, & A/C – Plumbing, Heating and Air-Conditioning Contractors
South Plains Glass, LLC – Glass and Glazing Contractors
AA Electric – Electrical Contractors
E & A Materials Inc. – Masonry and Stone Supplier; Landscape and Hardscape Materials
Ribble Land Construction – Earthwork and Concrete Contractor
For more West Texas Chapter AGC Member information please go to our membership directory.
The West Texas Chapter AGC is proud to present the following members with their awards, honorable recognition, and accomplishments!
West Texas AGC members receive Certificate of Commendation Safety Awards
Certificate of Commendation for safety from AGC of America were received by the following companies by achieving a zero-incident rate or an incident rate of 25% below their divisions average.   Congratulations!
Associated Contractors
Abilene
Campbell Construction
Midland
Henthorn Commercial Construction, LLC
Lubbock
M & F Litteken Company
Wichita Falls
Mid-Tex of Midland, Inc.
Midland
Teinert Construction, Inc.
Lubbock
The Crowe Group, Inc.
Abilene
AGC – TBB | Texas Building Branch Announces Safety Award Winners
2017 Safety Award Winners sponsored by CompGroupAGC will be recognized at the TBB annual conference at the Nemacolin Woodlands Resort in Pennsylvania June 6th – 9th.  Safety information is received from our member companies by submitting their NASA Report (OSHA 300A information), as part of the AGC (NASA) National Safety Award Program annually in January.
CONGRATULATIONS to the following West Texas AGC companies who will be recognized for their safety records and have demonstrated a strong commitment to safety.
                                                                                                                                                                  Building Division
Collier Construction – Category 5                                  Lubbock
                                                                                                                                                           Zero Lost Workday Awards
Anthony Inman Construction, Inc.
Wichita Falls
Associated Contractors
Abilene
Brown-McKee/Precision Drilling
Lubbock
Campbell Construction
Midland
DM Construction, LLC
Lubbock
Henthorn Commercial Construction, LLC
Lubbock
Independent Electric
Levelland
J. C. Roberts Construction Co., Inc.
Midland
M & F Litteken Company
Wichita Falls
Mid-Tex of Midland, Inc.
Midland
Pharr & Company
Lubbock
Teinert Construction, Inc.
Lubbock
The Crowe Group, Inc.
Abilene
Lee Lewis Construction, Inc. – Lubbock, Texas · ENR's TOP 400 CONTRACTORS
                                                Lee Lewis Construction is recognized in ENR, Engineering News-Record September/October 2017 magazine in ENR's list of TOP 400 Contractors.                                                      Lee Lewis Construction is listed as #128 in the list of the TOP 400 with a 2016 revenue of $623.0 M in general building construction.
Parkhill, Smith & Cooper, Inc. in Lubbock, Texas | team-psc.com
Congratulations to PSC for being recognized by ENR – Engineering News-Record as 32nd in the Top 100 of Project Delivery Firms highlighted in the Special Coverage of ENR's Texas & Louisiana's June 2017 magazine.
Congratulations to Jim Barr, president of Barr Roofing of Abilene who will begin a term as the 2017-2018 chairman of the board of the National Roofing Contractors Association on June 1, 2017.  Jim has served the NRCA in many capacities for a number of years and was noted not only for his experience with all types of roofing but his people skills and positive attitude.
We wish Jim the very best and our support this year during his leadership with a strong and long standing trade association in the U.S.
Recognizing West Texas AGC companies receiving Certificate of Commendation For Excellent Safety Record • 2016 From AGC of America
1st Place Building – Group 7:
Brown McKee – Precision Drilling, Lubbock
Zero Lost Workdays:
The Crowe Group, Abilene
M & F Litteken, Wichita Falls
Collier Construction, Lubbock
Associated Contractors, Abilene
Anthony Inman Construction, Wichita Falls
Henthorn Commercial Construction, Lubbock
Teinert Commercial Building Services, Lubbock
To be recognized by AGC of America, a Contractor must submit and qualify, three consecutive years. Congratulations for your COMMITTMENT and EXCELLENCE to SAFETY!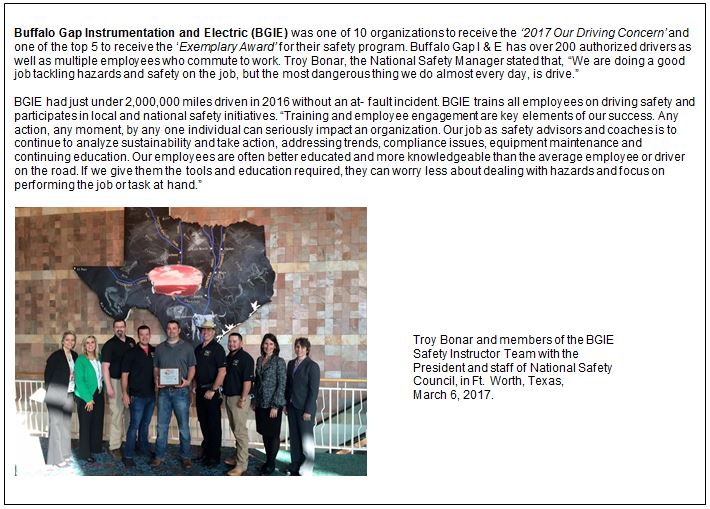 City of Abilene and Enprotec / Hibbs & Todd, Inc. Honored with National WateReuse Award of 2016 and 2016 Engineering News-Record Best Project of 2016 Award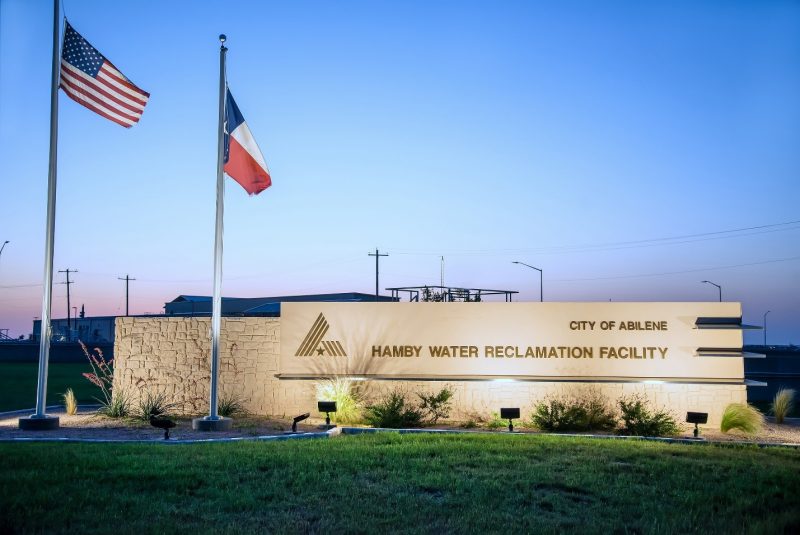 September 13, 2016
ABILENE, TEXAS – The City of Abilene and Enprotec / Hibbs & Todd, Inc. (eHT) have received two highly prestigious awards for the accomplishment of the Abilene Hamby Water Reclamation and Indirect Reuse Project.
The project received the 2016 Project of the Year award from the WateReuse Association which recognizes projects whose significance and contributions to the community continue to advance the water reuse industry. The project was presented during an awards presentation on September 13th in Tampa, Florida.
The project also received the Engineering News-Record Texas and Louisiana Chapter Best Water and Environmental Project of the Year Award. It will be recognized during a ceremony on October 19th in Houston.
The successes of the project are many including representing the largest membrane bioreactor (MBR) facility currently in the State of Texas. There were no interruptions to operations and treatment over the entire construction period and maximum use of the existing plant site allowed for re-purposing as many existing structures as possible. The project provided an additional 7.0 million gallons per day of water supply through indirect reuse and the fast track approach allowed discharging advanced treated wastewater for indirect reuse in less than 12 months from the start of construction.
"We are honored to be recognized for our company's work on the Hamby Water Reclamation Project for the City of Abilene," said Scott Hibbs, President of eHT. "Congratulations to all those involved who worked together to provide this drought relief water source in less than 12 months."
"The City of Abilene is very appreciative to receive both of these awards", said Tommy O'Brien, Executive Director of Water Utilities for the City of Abilene.  "The Hamby Water Reclamation Facility Project was a critical strategy in providing an additional water supply for the City's customers during what is now considered the new drought of record for this part of West Texas.  The City staff, consultants and contractor worked cooperatively throughout the entire project, gaining consensus on critical issues as the project progressed through design and construction.  This working relationship ensured the project was completed on time and within budget.  This dedicated team helped to effectively fast-track this critical project earning it this highly prestigious award."

AGC Texas Building Branch 2016 Convention at Horseshoe Bay Resort on June 12th – 15th, 2016
The following West Texas AGC Members received 2015 Safety Awards for Zero Lost Days:
Associated Contractors
Campbell Construction
Henthorn Commercial Construction
M & F Litteken Company
Mid-Tex of Midland, Inc.
Pharr & Company
Teinert Commercial Building Services
The Crowe Group, Inc.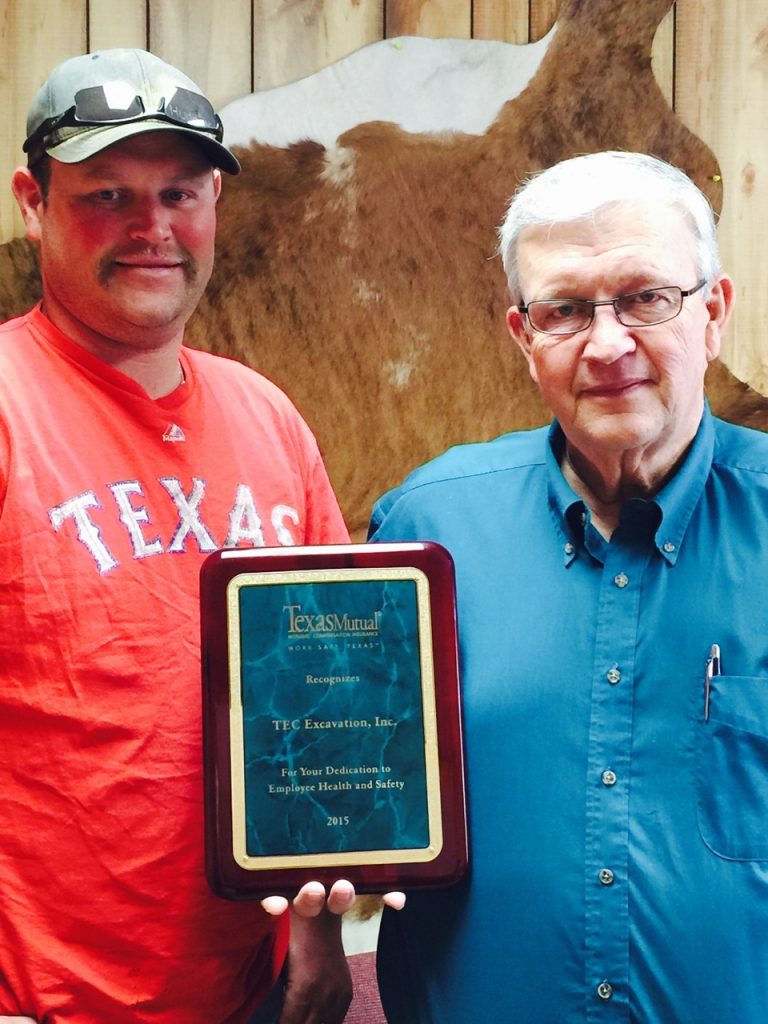 TEC Excavation
Received the Safety Recognition award for 2015 from Texas Mutual for their "Dedication to Employee Health and Safety"
This recognition is only awarded to 200 of Texas Mutual's 65,000 clients, which is the top 1% who represent excellence in their safety programs and commitment to employee well-being.
TEC Excavation is an excavation and utility contractor in Midland, Texas and we are pleased that they have been a West Texas AGC member for ten years.  Well done TEC!
The West Texas Chapter is proud of each and every one of our members and their many accomplishments!
If you have an award or recognition – we want to know about it! – Send information to abilene@wtagc.org