The West Texas Chapter of Associated General Contractors is an organization of qualified construction contractors, sub-contractors and industry related companies committed to skill, integrity, and responsibility. The association provides services that include information on projects, government issues, professional development and safety services resulting in excellence from dedicated contractors leading the industry.
West Texas AGC Group Medical Plan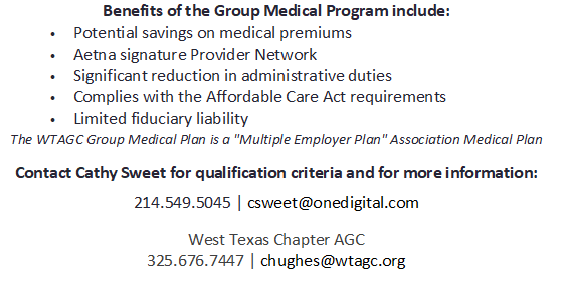 AGC 401(K) Plan for West Texas AGC Companies Now Available
West Texas AGC member companies are now eligible to participate in the AGC Southwest Chapters 401(k) Plan, one of the largest association plans in the nation with more than $350 million in assets and over 100 participating companies. The plan started in 2009 at the AGC Houston and in 2012 merged with the Louisiana AGC multiple employer plan.
As a West Texas AGC company member your firm can now join this "closed" MEP as an adopting employer. Under a closed MEP there are no individual audits, no 5500 tax filing or other tasks affiliated with an "open" MEP or individual 401(k) plan for your company. This results in large costs savings for your company. Further, there is no liability for you as the Trustee, Plan Administrator or Named Fiduciary.
TEXAS BUILDS
Commercial construction workers in Texas talk about career opportunities, good pay and safety!
Nothing is more important to the construction industry than the safety of its workforce.
Every day thousands of dedicated construction safety professionals work hard to make sure every worker heads home to their family at the end of the day in Texas.
 Click HERE to find out what workers say about safety at their job and pride in their career.

Texas is a great state!
According to the Texas Comptroller, October 2017, "People are drawn to Texas for jobs, a low cost of living and a high quality of life.
 

In January 2019,


USAToday listed the fastest growing and shrinking states in the US naming Texas Number 7 of the fastest growing states.
If you are interested in learning more about a rewarding career in the industry, you are in the right place.Here you'll find up-to-date information for students, schools, and the industry's human resources professionals. This site is also a valuable resource for military veterans who may be interested in a new beginning.
JOIN US!
Let's build Texas, together!