The West Texas Chapter of Associated General Contractors is an organization of qualified construction contractors, sub-contractors and industry related companies committed to skill, integrity, and responsibility. The association provides services that include information on projects, government issues, professional development and safety services resulting in excellence from dedicated contractors leading the industry.
The 2019 West Texas Directory and Member Guide will be arriving in your mail box soon! The on-line flipbook is available for viewing NOW on our website by clicking the Membership Directory at the lower right of the home page.  
We want to thank each of our members who are sponsors and advertisers in this year's directory, making the 2019 publication possible for the entire chapter!
 MAKE A DIFFERENCE IN TEXAS
West Texas AGC has updated our Advocacy page to assist our members with key links to local, state, and federal sites.  Click the tab at the top of wtagc.org!
We encourage our members to be involved and VOTE and to encourage their employees to VOTE!
Over the coming weeks, AGC TBB will provide information on Statewide, Senate, and House races, along with the elections that are most significant to our industry. To view the latest news from AGC TBB CLICK HERE (from the Capital Round Up issue – December 17, 2018)
We make voting easy.
AGC makes sure you always know when elections are happening, and have the right information to vote with confidence. Sign up to receive election reminders, register to vote, and apply for your absentee ballot!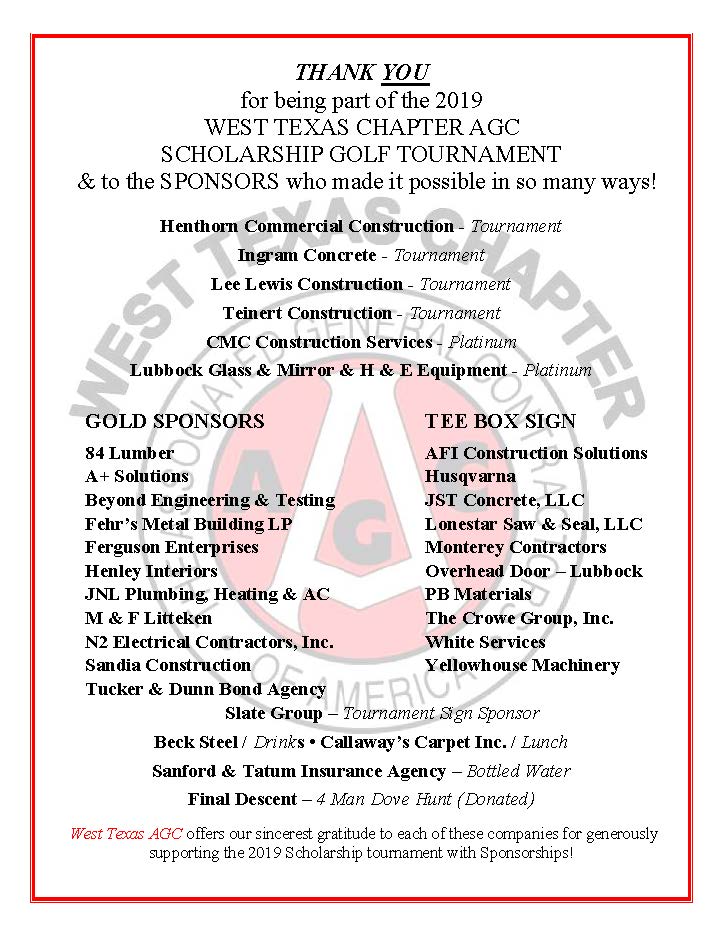 TEXAS BUILDS
Commercial construction workers in Texas
talk about career opportunities, good pay and safety!
Nothing is more important to the construction industry than the safety of its workforce. Every day thousands of dedicated construction safety professionals work hard to make sure every worker heads home to their family at the end of the day in Texas. Click HERE to find out what workers say about safety at their job and pride in their career.